TUESDAY 14 JUNE 2022
Workshop on Corporate Governance and Human Rights

The KPMG Professorship in International Corporate Governance is pleased to organize an interactive workshop on corporate governance and human rights to take place just before its 6pm round-table exploration of company board challenges in 2022.
How should businesses integrate human rights and environmental due diligence into their corporate governance & management systems?  The workshop seeks to address how businesses could reconcile human rights and environmental concerns into their due diligence processes, into their operations and throughout their value chains, so as to prevent silos and integrate their assessments and responses to prevent and minimize them..
Those interested in attending this workshop should request an invitation from one of the workshop leaders.
Workshop moderated by Valéria Silva (affiliate Professor of law, ESCP Business School), Charlotte Michon (Executive Officer at EDH and Founder of DDH Enterprises), & David Chekroun (Professor of law, ESCP Business School – KPMG Professor in New Generation Management).

June 14th, 2022, from 3pm to 4.30pm, both in-person and online (login details will be sent to participants the day prior to the event).
This workshop will run concurrently with another workshop on corporate governance and geopolitics.
The workshop will be followed by the conference on Challenges for Corporate Board Members in 2022.
---
14 JUNE 2022
15h00 – 16h30
ESCP, 79 Avenue de la République
75011 Paris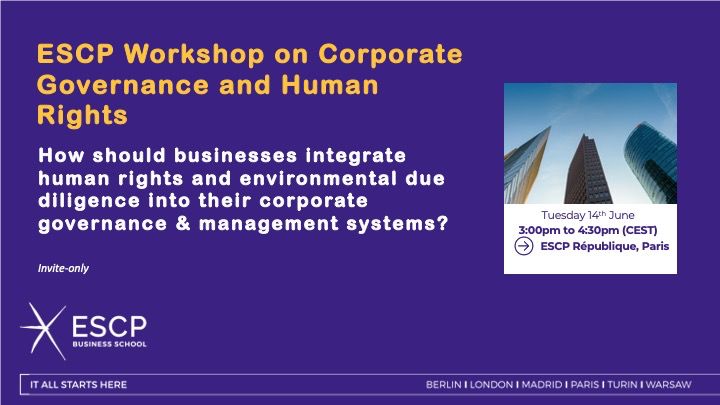 ---